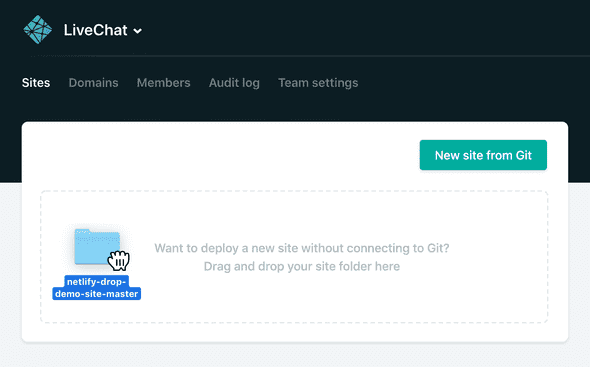 Creating widgets in our Developer Console takes only a few steps, but you can speed up the process even more. A way to do that is by deploying your app on Netlify with just two actions: drag and drop.
Widgets are web applications that bring new functionalities to the LiveChat Agent App. They can be displayed in different locations of the Agent App UI, for example in the Details section. To learn more, check out the Building LiveChat apps guide. If you're interested in creating a widget, click for the instructions to make one.
Choosing the right hosting platform
When creating a widget, you're asked to enter your app URL. For that purpose, you need to host your app on a dedicated platform. You may already have your favorite one, but we'd like to show you something extremely efficient.
Netlify Drop allows you to deploy your app in a fast & easy way, which is helpful if you don't have any prior experience with hosting. All you need to do is drag the folder with your app and drop in the dedicated location on Netlify. It's really that simple!
Why use Netlify? Saving time and effort is the obvious benefit, but not the only one, though. They welcome you with a great starter for free. It includes making sure that your website is safe, has a custom domain name, and can be integrated with Git.
See for yourself
If you're still not sure, perhaps you should try it out yourself. You can create the most basic HTML page and drag-and-drop it on Netlify. You don't even have to log in; it's just that your site will be deleted after 24 hours.
We host there too
At LiveChat, we use Netlify to host our sample apps. Here's Tag Master as an example.
With the app already deployed, you can finish creating your widget in the blink of an eye! ;-)
What about you?
Have you got your favorite hosting platform? Let us know what it is! Also, make sure to share your experience if you decide to play with Netlify.