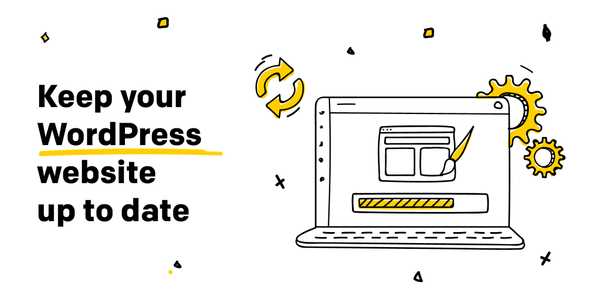 If you frequently log in to your WordPress admin panel, you probably have seen those "annoying" notifications about available updates.
Maybe you've clicked on one of them without thinking, it broke your website and you promised yourself never to update anything on Wordpress ever again. We get you. But WordPress updates keep your website stable and secure, so it's crucial to run them regularly.
Why you should update themes and plugins
WordPress is an open-source platform, so every core release goes through the hands of many developers. It means that a lot of people get to review the code and spot bugs or security vulnerabilities early on. On the contrary, a single developer or a group of developers work on themes and plugins. Which means there is a bigger chance that some tiny little thing was overlooked and can potentially create a security threat.
And because updates often include fixes to security issues, you should make sure to keep your plugins and themes as well as the WordPress core up-to-date.
Do I need to update right away?
The short answer is yes. The long answer is: it depends on the type of release. The most crucial for safety are patch releases, as they often contain fixes to security issues. If you don't update right away, then you use software with known security vulnerabilities. It means that your site could be hacked, as bots often target sites running on older versions.
Types of releases
All update notifications contain a version number. It immediately tells you what type of release it is, like in the screenshot below.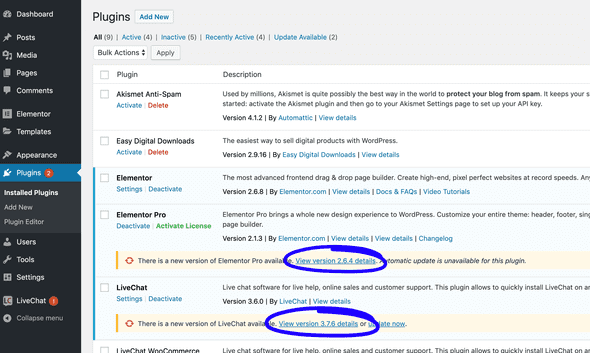 In short, the numbers tell you if it's a major, minor, or a patch release. Here are the differences between them.
Major releases indicated by a change in the first digit (e.g., 3.0.0, 4.0.0) Include new features and changes that are often backward incompatible. It means that older components might break when you upgrade. That's why you should test these updates on a staging version of your site before going live.
Minor releases indicated by a change in the second digit (e.g., 3.1.0, 3.2.0) Include smaller features and improvements. They are backward compatible, which means that they shouldn't break your website.
Patch releases indicated by a change in the third digit (e.g. 3.1.2., 3.1.3) Include bug fixes and security improvements. Even though they are the smallest updates, you should upgrade to them as soon as possible as they keep your site stable and secure. You can set these updates to be run automatically as they don't have an impact on other components of your website and won't break anything.
Manage WordPress updates efficiently
A few tips for updating your WordPress website.
Set automatic updates for minor and security releases
To keep your WordPress safe, set your plugins and themes to be updated automatically. Thanks to that you won't need to check every day if there is an important security release. There are many useful plugins that help you manage automatic updates, e.g., Easy Updates Manager.
Test major updates on the staging environment
As major updates don't ensure backward compatibility, they can potentially break your website, especially if you customized it a lot.
That's why we recommend that you first test a major update on a staging version of your website. That way, you can check if everything works as it should before going live.
Always have backup
It's important to back up both your WordPress files and the database. Not only because of updates. Doing regular backup means that no matter what happens, you can always quickly restore a working version of your site. Here's a list of plugins that can help you manage automatic backup.
So what does it have to do with LiveChat
A lot of our customers use the LiveChat WordPress plugin to add the chat widget to their site. If you are one of them, we highly encourage you to keep it up to date. It will let you take advantage of our newest features and keep your website and your customers safe.