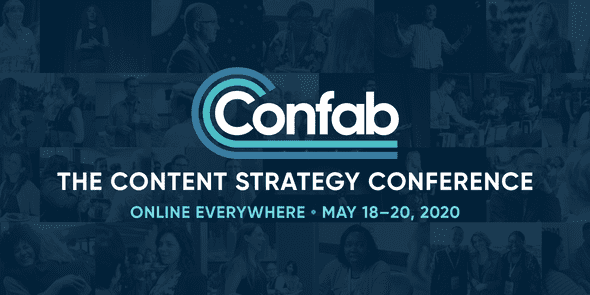 Since 2011, Confab has organized The Content Strategy Conference dedicated to writers, marketers, UX designers, content strategists, and many other professionals. Confab's organizer and host is BrainTraffic, based in Minneapolis, Minnesota. Due to the current situation caused by the pandemic of COVID-19, Confab went online. I had the pleasure to participate in this three-day event, and today, I'd like to do a little retrospective using my team's favorite retro template: Liked, Learned, Lacked.
Liked
Not having much experience in organizing events myself, I can still imagine that transforming a popular conference into a virtual event is quite an undertaking, especially on such a short notice. Therefore, the Confab team deserves a loud shout-out for facing the challenge so impeccably! The program was well composed and balanced, taking into account the reality of a home office environment. Apart from presentations, QA sessions, and panel discussions, there were numerous opportunities to socialize and make connections. My participation in the latter was restricted by the significant time difference (something to bear in mind when joining from a different time zone), but that's nobody's fault. There was even a DJ entertaining us during streaming problems or while waiting for a presentation to start!
One of my favorite parts of the conference were Q&A sessions occuring after the pre-recorded talks (which were, by the way, a very wise move). The Q&A sessions were vivid and interactive, making up for the impossibility of meeting face to face. There were always many questions from the audience, and personally, I wouldn't mind if the sessions were longer. You could always ask a follow-up question on Slack, but I enjoy people answering live, I guess.
I still haven't seen all the talks from the on-demand Confab library, but I'm pretty sure nothing will beat the panel discussion about SEO, analytics, and measurement with Rebekah Baggs, Aaron Baker, Chris Corak, and Dana DiTomaso. Together with Dana's presentation, Evaluating content success with analytics, these two events are my golden duo. It's certainly not because I'm an analytics experts — on the contrary. I suppose it's the combination of the panelists's charisma and sense of humor, plus, the usability of the subject. To quote, or rather paraphraze, Dana:
Content writers are great storytellers. Think of analytics as of a tool to tell a story based on data.
To be honest, I've never thought about it this way, but it's an unusual and inspiring approach.
Learned
In 2012, Tom Johnson, the author of I'd rather be writing, described his after-Confab thoughts. In his blog post, he touched on the problem of content strategy being vague, loose in its definition. Eight years later, I think that the situation has noticeably changed. The profession of a content strategist or UX writer gained much more recognition. Yet, the development of the discipline is still ongoing, and multiple conversations about what exactly UX writing and content strategy entail seem to prove that.
While the discipline is still evolving and shaping up, the community of UX writers and content strategists is growing, and to be honset, is doing pretty well. Also, within this community, there's a strong community of Confabers, regular Confab attendees, which was a pleasant surprise for a first timer like myself.
What's more, the conference gave me an opportunity to learn how the communication and relations between writers and other team members look in other organizations. In some cases, I could easily relate, in others, discover something new and reflect on it. Either way, it helped me broaden my horizons.
Lacked
To me, some talks were too general and lacked substance. I was expecting lots of tips and tricks, ready-to-implement pieces of advice instead of theoretical concepts. Certain approaches or methodologies seemed elusive and too abstract to put into practice. I was really counting on meaty content, and I'm a little disappointed in this area.
Moreover, I hoped to meet fellow tech writers, but the community associates mostly UX writers, content marketers, strategists. I wouldn't say it's a particularly bad thing, it's just different audience. Yet, it felt like it's not a community I belong to.
For the final part, let me refer to Tom Johnson's blog post once more. He mentioned a lack of dissent, and I'm under the impression that this aspect is still valid. I believe that a community can be supportive and give constructive criticism at the same time. At Confab, I observed only the former. It's a shame because a total lack of disagreement and objections inhibits development and growth. Also, it adds that note of insincerity that I'm alergic to.
Final vote
All in all, I feel bittersweet about the whole experience. I'm glad I could attend Confab as there were some talks that stole my heart. I left the conference with a fresh dose of motivation for evaluating our content with analytics in new ways. I would recommend the event to anyone interested in UX writing, marketing content, and content strategy, but it might not be the ideal place for strongly tech-oriented writers.